MASCOTA
Alim Derya (Yuki)
Bejan Maria (Sen)
Crişan Daria-Mălina (Kiki şi Koko)
Din Simina (Daikichi)
Hardulea Mălina (Crystal)
Matei Mihaela-Georgiana (Takkun)
Nedelcu Andra (Tsuru sensei)


Alim Derya, first year, Japanese-English
"Yuki"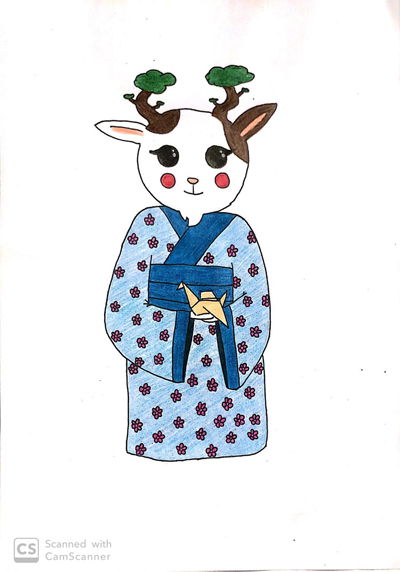 This is Yuki, my idea for the Centre's mascot. She is inspired by Yuki, the toy from the Japanese cabinet, but she has bonsai instead of corns, cheeks that refer to the Japanese flag, a kimono and she knows how to make origami. She is calm, gentle, and extremely cute.
Bejan Maria, second year, Japanese-English
"Sen"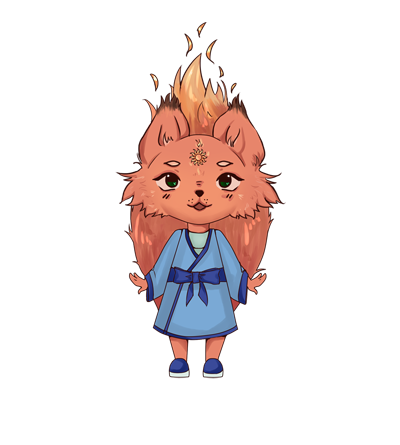 Sen is an intelligent being who possesses various supernatural abilities. She can change her shape to that of a human being, so in her free time, she is a tourist guide, eager to present to foreigners various aspects related to Japanese culture. She would love to represent the The Sembazuru Centre for Japanese Studies!
Crişan Daria-Mălina, first year, Japanese-English
"Kiki and Koko"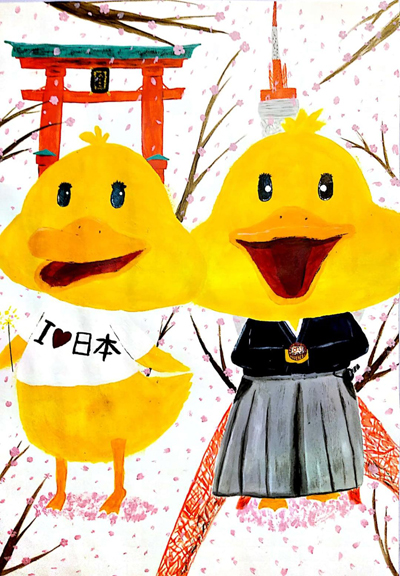 Kiki and Koko ducklings are inseparable, forming a whole. Kiki, the girl, represents modern Japan, while Koko, the boy, represents traditional Japan, as their clothing and accessories suggest. Behind Kiki is the gate of Itsukushima Temple, and behind Koko is the Tokyo Tower, which shows the mixture of tradition and modernity found throughout Japan. All around are twigs with cherry blossoms and petals, the cherry being both one of the most famous symbols of Japanese culture and a witness, a link between the two 'versions' of Japan (the traditional and the modern one).
Din Simina, second year, Japanese-Finnish
"Daikichi"


The character that I propose as the mascot of the Centre for Japanese Studies is a tomcat named Daikichi 大吉 (lit. 'great luck'). My intention was to keep, regarding the appearance of this character, an element of Japanese culture that we are all fascinated by. So, I started with the image of the famous Japanese figurine 'maneki neko', which I especially love (choosing to keep a similar position of the 'hand', but also that bell that he wears), to build a new, unique character that students and enthusiasts of Japanese language and culture can identify with. Daikichi is a (more or less) 'magic' tomcat who, as its name suggests, aims to bring motivation, perseverance, and good luck to those who really want to explore the Japanese horizon. He is passionate about reading, which is not surprising, given that his multicolored eyes, like lollipops, give him the special ability to remember what he reads just by looking. However, he himself is still learning Japanese, because he knows that no matter how much he studies it, it cannot be exhausted. That is why he takes a Japanese book with him every day and urges others to do the same. He is a clever and funny tomcat, who knows how to entertain and lift one's spirits. Therefore, I believe that it could be a suitable mascot for our Japanese Centre, where all of us are encouraged to study the Japanese language and to get involved in the cultural activities through which we discover Japan.
Hardulea Mălina, second year, Japanese-Spanish
"Crystal"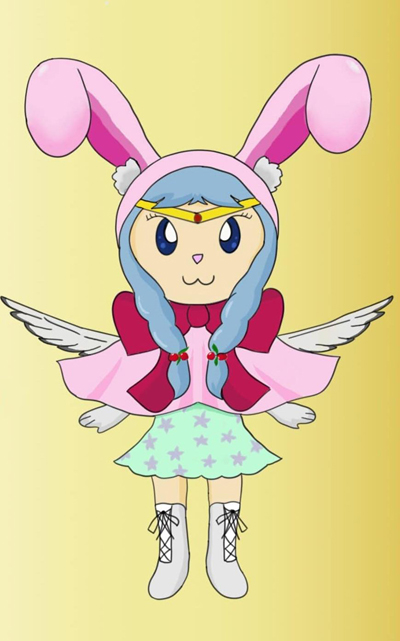 The character's name is Crystal. I attached some elements that are so-called 'easter eggs' to her: the Sailor Moon-inspired tiara, which will represent a part of the Japanese culture (anime), the cherry-shaped clams (sakura), and the crane wings (inspired by the word tsuru).
Matei Mihaela-Georgiana, first year, Japanese-English
"Takkun"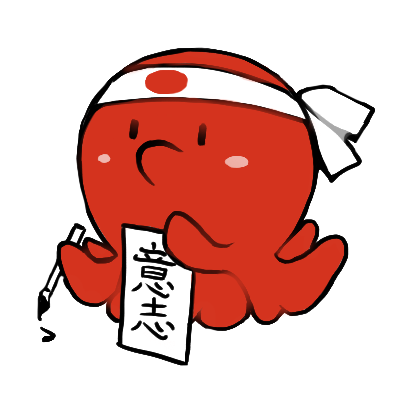 Name: Takkun
Sex: M
Age: 1 year old
Blood type: B ('blue' because it has no red blood, but according to Japanese belief, he is distinguished by creativity)
Height: 40 cm

What he likes: shodō, tight spaces, glass ships, hugs
What he does not like: getting stained with ink, hot days

Takkun is a little octopus passionate about Japanese culture and history.

Takkun lived a simple and happy life, like any other octopus, until one day he fell asleep in a clay pot at the bottom of the ocean and woke up on the shore. There was Mr. Tsubo, who was painting the sea. Takkun offered to be his model, and the painting came out great!

As a thank you, Mr. Tsubo invited Takkun to his art exhibition, where he was warmly welcomed by visitors.
At the exhibition, Takkun learned about shodō and felt for the first time that he had found his purpose! Until then, the ink was just a manifestation of fear, but Takkun understood that you should not be afraid, but turn your obstacles into pleasant or, at least, useful experiences for the future.
Nedelcu Andra, third year, Japanese-English
"Tsuru-sensei"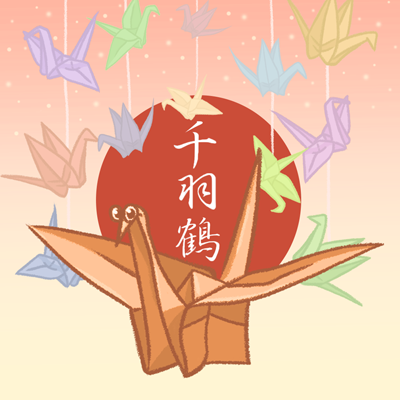 This is Tsuru-sensei.

Nice to meet you!

My name is Tsuru, but you guys can call me Tsuru-sensei. I am a legendary wise man born a thousand years ago, and my purpose is to share knowledge and show everyone the beauty of Japanese studies. Of course, this is not all there is to know, but I think the most important thing is love. Especially the love of learning.

I'm looking forward to working with you.